This Sunday, April 8th, ERCC will host Joel Khopang from North Burma Christian Mission. This is one of the missions supported by our church. It has been several years since Joel was here and it will likely be quite a while before he is able to return again, so you don't want to miss this opportunity to hear about his inspirational work, adventures, and faith!
After the morning worship service, everyone is invited to stay for a potluck luncheon with Joel in the Fellowship Hall.
———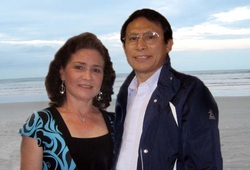 Joel is from the Anung tribe in Burma. He is married to Eugene Morse's second daughter, Marilyn. Joel works in Lahu tribal outreach, church growth, and leadership training in many villages in Northern Thailand, China, and Burma. Other efforts include outreach to some Naga tribes in India, as well as other assistance with evangelists who are focusing on unreached people groups in Burma, India and China. Marilyn has a music ministry making Christian music CD's that are enjoyed throughout Burma.
———
It has been estimated that, by God's grace, over a million Asian people have been impacted through the extended work of NBCM over a period of 90 years. Christianity is being taken by a network of believers into villages and cities over a multi-country span.
The work began in China by J. Russell and Gertrude Morse. As their children and grandchildren moved into Burma and on into Thailand, a string of national believers were trained to continue the work. Lisu, Lahu, Rawang, and many other tribes have sent out leaders in their own communities and into new unreached territories across the area.
Since 1972, when the Morse's relocated in Thailand, this network has branched in many directions with indigenous pastors and teachers carrying the messag e of Jesus Christ.
Other missionary co-workers have joined the Morse family over the years bringing their own expertise and vision into the mission. The work continues on and expands as each new believer picks up the baton and runs the race.